College is an exciting time for students, wherever they attend. It teaches students valuable life lessons and offers students opportunities to blaze their own trail and find success in their future. Furthermore, between balancing school with social activities, a college experience teaches time management, as well as how to get involved within the campus. Beyond academia, college offers the opportunity for an on-campus job as a student employee. While at first it can seem intimidating to add another responsibility to an already busy schedule, an on-campus job can have incredible benefits for a student. Below are some of the reasons why we think working on campus should be your next decision!
Work Doesn't Have to Be a Balancing Act
Working on campus offers an incredibly convenient work environment. Working on campus means that your job is just a short walk away from whichever campus buildings you're in – even if it's Engineering Hall! This can be especially helpful when heading straight to work from classes. If you have an awkward two hour break between classes, the perfect way to fill it can be working.  Not only is it conveniently placed, but your employer is also happy to support your busy schedule. Student employers understand that there is a lot on any given student's plate, so they are more than happy to accommodate you work schedule with your class schedule, personal life, and general well-being.
Co-Workers Make Great Friends!
Having co-workers who are also students on the same campus can be such a blessing. We have been working at the Student Job Center for 4 years and are happy to say that the friendship this job facilitated has been an incredibly influential part of our college experience. Not only can the job enhance your personal network and make work more enjoyable, it can help with academics, too! Most likely, you will have a coworker (or two) in one of your classes, especially common incoming freshman courses, like Chemistry 103. And – trust us – everyone could use a helping hand in Chem 103. Coworkers are great study buddies, and you always know when you'll see them to be able to schedule a study time. Furthermore, if there are older coworkers in your major, they are incredible resources for helping you plan your schedule next semester, or steer you away from a tough class (or professor).
Learn About Applicable Life Skills, On The Job
With an office comprised of both students and full-time staff, on campus jobs will teach you about interactions with people and customers working in the real world. Full time staff in on-campus jobs love to interact with students, and are more than willing to help a Badger, whether that is answering questions that are work or non-work related or collaborating on a project. Furthermore, the skills you will learn on the job are invaluable and can be transferred to any job you will have in the future. Many on campus jobs are customer facing and teach excellent customer service skills, which can be applied to any job you move on to next. Other jobs can integrate more critical thinking or problem solving, giving you a wide variety of jobs to choose from based on which skills you are most interested in exercising on a day to day basis. That being said, almost all jobs have pieces of all of these skills – interpersonal communication, problem solving, and critical thinking – so don't feel like you can go wrong choosing a job, even if it is not directly correlated to your field of study.
Use your Work-Study fund
In your Financial Aid offer, if you see that you have been awarded Work-Study, an on campus job is an excellent way to utilize that financial aid. Work Study is awarded to students who qualify based on their FAFSA, stating that the federal funds they are awarded are to go to 50% of their wages earned, and the department where the student is employed pays for the remaining 50%. To the student, there is no difference in the way hours are entered or what they see on their paycheck, but their chances of getting a job are increased, as Work-Study makes students a more favorable candidate to employers.
Have a Supplemental Income
For all students, no matter their Financial Aid or background, having an on-campus job is a wonderful way to earn supplemental income. This income can be used to buy anything from books for class and groceries, to Babcock ice cream on a hot summer day. On-campus jobs come with many invaluable benefits and can be easily managed with a class schedule. Having this extra income on the side offers students the opportunity to become financially independent for the first time, making it an excellent experience of independence and responsibility that can be used in interviews and jobs in the future.
Find your interests
The transition from being a student to the next step in life can seem intimidating. But, an on-campus job offers a platform that you can use to get to know what you may be interested in pursuing for the future. A job can help you hone in on what you are passionate about and want to spend your time doing, on top of discovering what you don't like, both on campus and beyond! Are you looking at research? Take advantage of being at one of the top research universities in the country by being employed at one of the labs! On campus jobs range from Arts to Research to Finance and Banking, so be sure to explore all of your options to find an exciting job experience which will be used as the first building block to your future career!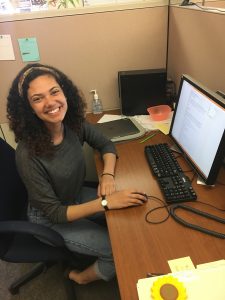 Written by Isabelle Mengesha, former Office of Student Financial Aid student employee