1 - Submit the FAFSA, School Code 003895
This is an accordion element with a series of buttons that open and close related content panels.
What is the FSA ID and how do I get one?
An FSA ID is a username and password that you must use to log in to certain U.S. Department of Education (ED) websites. Your FSA ID identifies you as someone who has the right to access your own personal information on ED websites such as the Free Application for Federal Student Aid (FAFSA®).
If you are a parent of a dependent student, you will need your own FSA ID if you want to sign your child's FAFSA electronically. If you have more than one child attending college, you can use the same FSA ID to sign all applications. Please note: Each FSA ID user must have a unique e-mail address.
Your FSA ID is used to sign legally binding documents electronically. It has the same legal status as a written signature. Don't give your FSA ID to anyone—not even to someone helping you fill out the FAFSA. Sharing your FSA ID could put you at risk of identity theft!
Create or retrieve a forgotten FSA ID, please go to https://studentaid.gov/fsa-id/create-account/launch.
What documents will I need to be able to complete the FAFSA?
The FAFSA asks for information about you (i.e. your name, date of birth, address, etc.) and about your financial situation. Depending on your circumstances (for instance, whether you're a U.S. citizen or what tax form you used), you might need the following information or documents as you fill out the FAFSA:
Your Social Security number (it's important that you enter it correctly on the FAFSA!)
Your parents' Social Security numbers if you are a dependent student
Your Alien Registration number if you are not a U.S. citizen
Federal tax information* or tax returns including IRS W-2 information, for you (and your spouse if you are married), and for your parents if you are a dependent student:

IRS 1040, 1040A, 1040EZ
Foreign tax return and/or
Tax return for Puerto Rico, Guam, American Samoa, the U.S. Virgin Islands, the Marshall Islands, the Federated States of Micronesia, or Palau

Records of your untaxed income, such as child support received, interest income, and veterans noneducation benefits, for you and for your parents if you are a dependent student
Information on cash; savings and checking account balances; investments, including stocks and bonds and real estate but not including the home in which you live; and business and farm assets for you and for your parents if you are a dependent student
Keep these records! You may need them again.
*You may be able to have your tax information imported automatically from the IRS into your FAFSA with the IRS Data Retrieval Tool (IRS DRT) – more information about using the tool can be found on the Federal Student Aid website.
Am I dependent or independent for financial aid purposes?
Your answers to questions on the FAFSA® determine whether you are considered a dependent or independent student.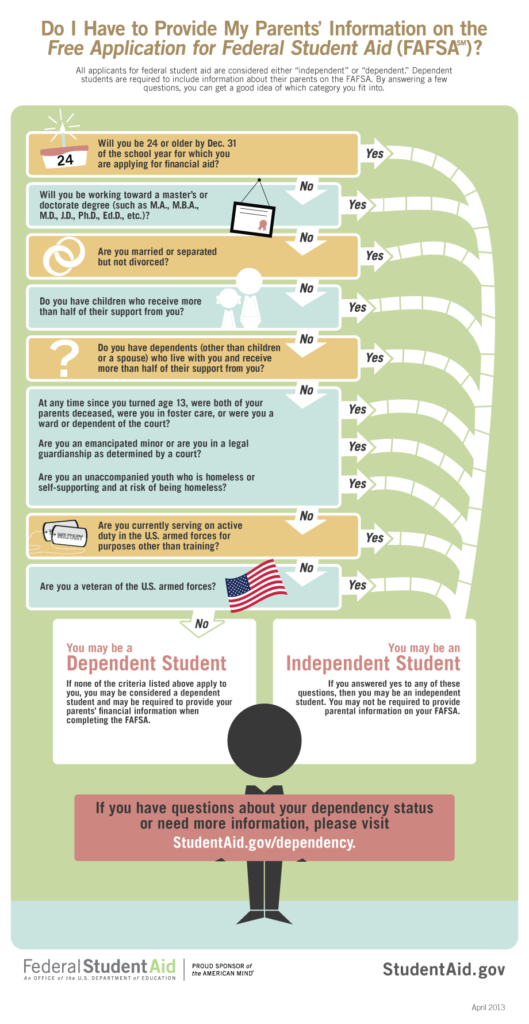 If you can say YES to one of the questions, then for federal student aid purposes, you're considered to be an independent student and you will not be required to provide information about your parents on the FAFSA.
If you answered NO to all of the questions, then for federal student aid purposes, you're considered to be a dependent student, and you must provide information about your parents on the FAFSA.
Not living with parents or not being claimed by them on tax forms does not make you an independent student for purposes of applying for federal student aid.
If you have no contact with your parents and don't know where they live, or you've left home due to an abusive situation, fill out the FAFSA and then immediately get in touch with our office to further discuss your situation and options available to you.
Who is considered my parent on the FAFSA?
More information can be found on the Federal Student Aid website.
Should I use the IRS Data Retrieval Tool?
You're not required to, but we strongly recommend that you use it! It means there is no need to locate your tax return and enter in all those numbers yourself, and it may reduce the chance that our office will need additional documentation.
I need help completing my FAFSA - Where can I get help?
You are always welcome to schedule an appointment to sit down with one our financial aid advisors for assistance with completing the FAFSA.
We also hold several FAFSA Completion events throughout the year – check the UW Events Calendar for any upcoming events.
College Goal Wisconsin is a state-wide program designed to assist students and families in timely completion of the FAFSA.
High school seniors should also check with their counseling office for any local FAFSA assistance or events.
2 - Apply for Scholarships
Scholarships are an excellent way to help reduce the costs of higher education. To match to, apply for, and accept campus scholarships, please log into the Wisconsin Scholarship Hub (WiSH) using your UW Netid and password.
Wisconsin Scholarship Hub (WiSH)
Applications for Incoming Freshmen typically open in early November and have deadlines in early February. Applications for Continuing Students can be open at any time, so log in to your WiSH dashboard often to check for new scholarship matches and apply. For additional information about UW-Madison scholarships, including FAQ and contact information, please visit our Scholarship Information page.
There are also many opportunities for scholarships through outside organizations and businesses – take time to research what else may be out there for you to apply. WARNING! Never pay or provide credit card information when searching for or applying to scholarships.
3 - Keep an Eye Out for Email Notifications
The financial aid office may request additional information. About 20% of students are selected for a process called verification which requires the school to collect documentation to confirm the accuracy of your FAFSA. You can also view any requested materials through our Verification Portal.
**As of May 18, 2022, the Department of Education has provided for temporary changes to the federal student aid verification process for the 2022-23 year. For the remainder of the 2022–23 application cycle, verification will focus on identity theft and fraud and should significantly reduce other barriers that have prevented students most in need, from accessing critical financial aid funds.
This is an accordion element with a series of buttons that open and close related content panels.
How will I know which, if any, documents are required?
Our office will notify you (the student) via email if any documents are required before we are able to process your FAFSA. The email will direct you to our Verification Portal where you will see exactly what's being requested. Some documents can be completed online and signed electronically; others may have to be obtained elsewhere and uploaded to our system.
What if I have questions about what I've been asked to submit?
Check out our Verification webpage for more information and some 'How To' documents for the different items that may be requested.
But if you have more specific questions, don't hesitate to reach out to our team – we're here to help make this process smoother!
What is the deadline for submitting verification documents?
We encourage those selected to submit any requested documentation within 21 days after receiving their e-mail notification.
Should I send in documentation, even if your office hasn't requested it?
NO!
Do NOT submit any documents to our office that are not specifically requested. Submitting unsolicited documents could delay the offering of your financial aid.
I submitted my FAFSA, but haven't heard from your office - What should I do?
Incoming Students (Undergrad/Grad/Professionals):
We will not begin processing a FAFSA until you have been fully ADMITTED to your program.
All students:
Confirm that you sent the FAFSA to the correct school with our School Code: 003895. It is a common mistake for our students to list the wrong school code.
Academic year financial aid offers typically begin going out in February/March.  Offers for Summer in April/May.
4 - Taking Classes Off Campus
Considering taking classes at another University? A consortium agreement is an agreement between two schools that one school (HOME school – UW-Madison) will provide financial aid while you (the student) temporarily takes classes at another institution (HOST school).
You can take all of your courses at another institution or you can take some courses at UW and some at another institution. BUT,

Half-time enrollment must still be met at ONE school. Credits between multiple schools cannot be added together to equal half-time.
If you choose to study at Madison College (MATC), you MUST be concurrently enrolled at least half-time at UW-Madison (except during the summer term).

Your HOST school must be an approved Title IV School, in other words they have a federally-issued School Code and can process federal financial aid. We, therefore, cannot approve consortium agreements with most foreign schools, a broker, or other agency.
There are additional documents that need to be complete before your consortium will be approved, so start early!
Contact our office for more information as well as to receive copies of the required documents to be completed.
You may be able to receive financial aid while participating in a UW-Madison study abroad program. Make sure to complete the Free Application for Federal Student Aid (FAFSA) and the applicable study abroad office on campus will notify the Office of Student Financial Aid of your specific study abroad program and the applicable cost of attendance.
The Office of Student Financial Aid will revise your cost of attendance to reflect your study abroad program. If the revision to your cost of attendance results in a change to your financial aid eligibility, we will notify you via email.
More information on UW-Madison study abroad programs can be found on the International Academic Programs website.
Contact our office with questions or to schedule an appointment to discuss funding options for study abroad.
5 - Need Summer Financial Aid?
Financial aid for the summer term is more limited than what is available for the academic year. The most common type of financial aid offered for summer are Federal Direct Loans which depends on your remaining eligibility for the year and you must be enrolled at least half-time. But based on your unique situation, you may be eligible for other summer financial aid, like an institutional grant or Federal work-study.
You will be notified via email of any financial aid eligibility for Summer 2022 a week or two after you enroll in summer courses. Financial aid eligibility for Summer 2022 will be based off of your 2021-22 FAFSA.
UW-Madison students with a NetID and the correct FAFSA on file can use our Summer Term Net Price Calculator for an estimate of the federal, state, and institutional financial aid they may be eligible for if taking summer classes.
If you are considering taking summer classes at a different college/university (see Consortium Agreements above), contact our office, as additional paperwork will be required.
We strongly recommend that students also apply for the Undergraduate Scholarship for Summer Study . That application will open February 11, 2022 and is due April 10, 2022.
Special Circumstance
If you or your family have experienced significant changes in income or have expenses that are not reflected on the Free Application for Federal Student Aid (FAFSA), your special circumstances may be eligible for a professional judgment.  A professional judgment allows a financial aid office to adjust certain elements on the FAFSA to account for special circumstances that have not been adequately considered.
Special circumstances are considered on a case-by-case basis and to ensure fairness and compliance with federal, state and university regulations, there are limits to the circumstances we can consider.
Because of funding limits, please be aware that a recalculation of your financial aid eligibility does not guarantee that any additional financial aid will be offered to you.
These are just a few examples of the special circumstances we can consider and the supporting documentation you can submit to support your request.
| | |
| --- | --- |
| Circumstance | Supporting Document Types |
| Parent loss of job/income | Last pay statement; letter of layoff |
| High medical/dental bills not covered by insurance and/or high cost of insurance premiums | Medical/dental bill invoice, copy of insurance premiums or statement of medical/dental costs; detailed explanation of excess costs |
| Reduction or loss of untaxed income such as child support or social security benefits: | Loss of benefits letter; loss of support letter; detailed explanation for loss of untaxed income |
| Student loss of income resulting from return to school after ceasing full-time employment: | Last date of full-time employment; last pay statement |
| Child care costs for student's dependent(s) | Daycare bill or other child care related costs |
| Death of a parent/spouse | Nothing required beyond signed statement |
Circumstances we are NOT able to consider include (but are not limited to):
Car payments
Consumer debt, including credit cards
High mortgage payments
Tuition expenses for a parent in college
Weddings
We appreciate that this may be a difficult situation and therefore stressful or uncomfortable to share, but we ask that you notify our office.  So we can better understand your special circumstance, you can either submit the Special Circumstances Request through your MyUW Student Center (select the Student eForms tile and then click on the Financial Aid folder) or download, complete, and submit our Special Circumstance Request Form .  Send the completed form along with supporting documentation to us (e-mail, fax, or mail). Always be sure to include your name and campus ID number.
Upon review, we may find it necessary to request additional information.  We will notify you of any change to your financial aid resulting from your special circumstance.  Based on the time of year, it may take several weeks.
Deadlines
You only have to submit the FAFSA and provide required verification materials to our office once during the academic year. However, last call for submission of those materials depends on when you need financial aid.
BE CAREFUL! These deadlines do not necessarily align with tuition or housing deadlines each semester. If for some reason you cannot meet these deadlines, contact our office as soon as possible.
*Your last chance to request or makes changes to a Federal Direct (Sub/Unsub/PLUS) or Private Loan is always the Friday before Finals Week each semester.
2022-23 Deadlines
FAFSA Priority Deadline – December 1, 2021
Fall 2022 Semester ONLY Financial Aid Applicants – November 15, 2022
Spring 2023 Semester ONLY Financial Aid Applicants- April 15, 2023
2022-23 Academic Year (Fall and Spring) Financial Aid Applicants – April 15, 2023
2023-24 Deadlines
FAFSA Priority Deadline – December 1, 2022
Fall 2023 Semester ONLY Financial Aid Applicants – November 15, 2023
Spring 2024 Semester ONLY Financial Aid Applicants- April 15, 2024
2023-24 Academic Year (Fall and Spring) Financial Aid Applicants – April 15, 2024