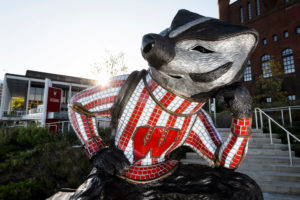 While you're here at the Memorial Union…
During our Scoop on Us event, join the fun and look for the following things at Memorial Union. Take a photo, upload it to your social media and tag @uwmad_finaid #ScoopOnUsMUFinds
Sit on an extra large terrace chair
Pose with Bucky
Find a mural
Locate Wheelhouse Studios
Tips/conversation starters for meeting new people on campus...
Student to Student
What are you most excited about as you start college?
What is your major or interested major if undecided?
What student orgs/activities do you plan to join?
Do you have any pets?
What kind of music or movies do you like?
What's good on Netflix, Hulu, HBO MAX?
What did you do this summer?
What do you like to do on the weekends?
Student to Staff
How did you decide you wanted the position you have?
What was your major?
What were your college extracurriculars?
Did you have any specific internships or volunteer opportunities you enjoyed most/recommend?
What's one thing you wish you knew before starting college?
Common Questions
This is an accordion element with a series of buttons that open and close related content panels.
What is a Refund?
How do I sign up for an eRefund?
What to do with my refund?
How to find a Job?
Using Starfish